Gum Disease is the most common form of bone loss, even more than osteoarthritis or osteoporosis.  The CDC published recent findings in the Journal of Dental Research.  This publication shows a high prevalence rate of Gum Disease in the U.S.  One out of two American adults over age 30 have periodontitis.  This means that approximately 64.7 million Americans are affected.
The data was collected from '09 to '10 by the Natioanl Health and Nutrition Examination Survey NHANES, and was the first to use full-mouth periodontal exams.  Which means it is the most comprehensive survey of periodontal health ever conducted in the U.S.
This ground breaking publication shows the extent, severity, and prevalence of Gum Disease in our population, and serves as a reminder for all dental professionals to educate their patients about the risk of periodontal disease and thoroughly assess patients for disease with a comprehensive periodontal exam.
Because Gum Disease is painless most people don't realize it's going on until it's too late. By the time they decide to go to the dentist or end up at the periodontal gum specialist, they've actually lost significant amounts of bone. They may even lose their teeth and require implant placement or dentures.
Dr. Lanman provides a thorough periodontal exam and treatment options to all of his patients.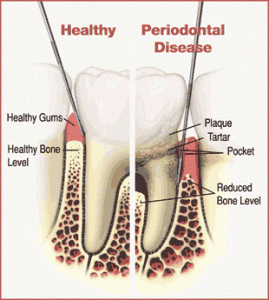 by